Duncans
135 High Street, Christchurch 8011
Replacing an original building that was sadly lost to the Christchurch Earthquakes, The Duncan's replacement building sits at the end of the row of the 1905 Duncan's buildings. Duncan's has been designed with a rusty steel exterior both on the High Street and St Asaph Street sides. The St Asaph Street Façade has the unique benefit of cantilevering 2.4 metres into the air space above the footpath. Duncans 135, was also recently an award winner for Commercial Architecture at the 2022 Canterbury Architecture Awards.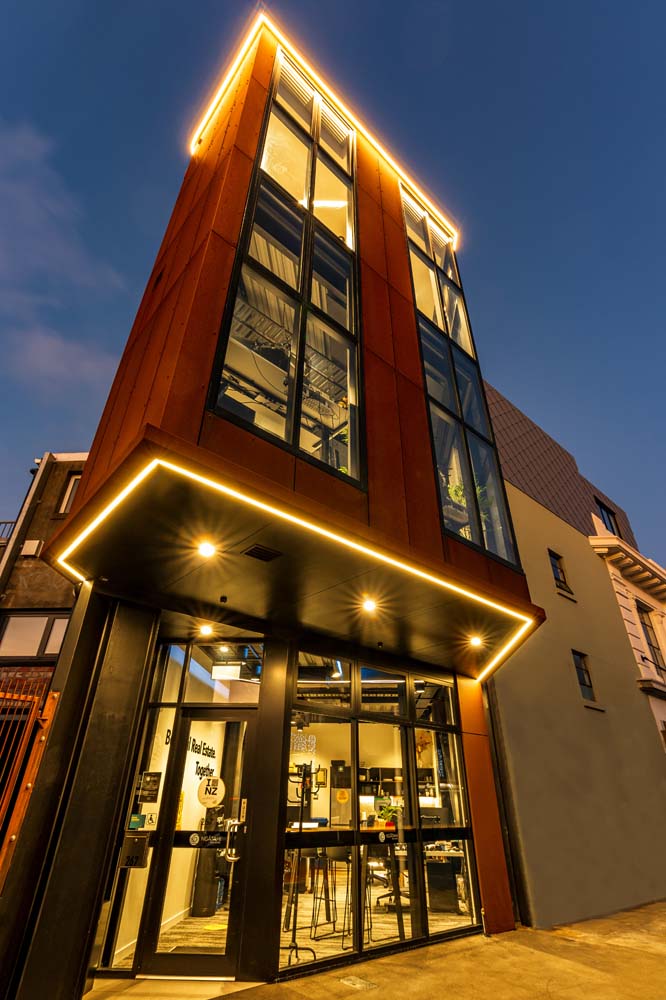 Above Your Space Duncans offers contemporary offices that are stylishly fitted out with designer furniture, flexible shelving, filing units and large desks with a modern, raw, sophisticated fit-out. 
All offices come equipped with HVAC and access to the latest Fibre Broadband which is provided by the Landlord for $60.00 per month with a one off $200.00 connection fee plus GST. 
For enquiries or to secure your space contact us today. 
It's a perfect space to relax and unwind during your lunch break. 
Located on the middle floor of Duncan's Above Your Space. 
This space offers seating for up to four people and comes complete with the latest in smart TV technology, compatible with windows and mac users.  Your presentations will be an enjoyable experience that keeps everyone interested. 
Conveniently located in your own office of Above Your Space Duncan's is a fully equipped kitchen space, complete with dish washer, microwave and a fridge. 
Duncan's boutique offices have been carefully designed for that next step being larger in size with the benefit of your own kitchen, with a shared meeting room on level one available as well. 
All offices have HVAC and are fully furnished with quality furniture, and spacious kitchens complete with modern appliances. 
The various offices range in size from 31 to 91 sqm2 with prices starting from $520.00 plus GST and including all outgoings other than power.
Fibre is available at $60.00 per month with a one off set up fee of $200.00 plus GST. 
A range of car-parking options are available close by.