Billens
177 High Street, Christchurch 8011
Initially known as England Brothers House, the original three storey, five bay, Billens Building was constructed for the estate of A J White, in 1906. It was best known for housing Billens Camping Store which traded there until the 1990's.
Designed by Robert England Junior in the Edwardian Baroque style it was constructed of Heathcote terracotta brick, with Oamaru Limestone embellishment and Normano-Celtic sculptural elements. The first floor featured a cantilevered oriel window and a scrolled dormer pediment at the parapet.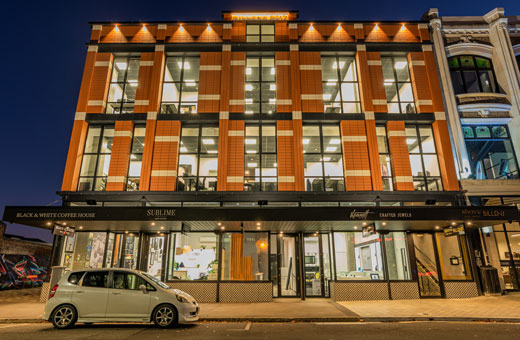 KPI Rothschild Property Group purchased the run-down building in 2003. Once restored it housed their head office, boutique retailers and the popular Globe Cafe.
Badly damaged in the big quakes of 2011 it was sold to the Christchurch Heritage Trust and sadly, arson saw the building burnt down on 7 December 2012 before its remaining facade could be restored.
Shaun Stockman of the Stockman Group purchased the site in 2017, with the rebuild being completed March 2018. The replacement building was designed by Andrew Evans of AE Architects to reflect the original by keeping the five bays, deep windows with random proportions and replica brick facade.
Following the tradition of Above Your Space Bonnington, certain areas in the Billens building have been named after either owners or tenants of the past, being a recognition of the history surrounding the replacement Billens building.  Under the relevant categories we have supplied some information of those owners or tenants of the past.
A range  of car-parking options are available close by.